We are currently closed. Sorry for the inconvenience.


Draconis Small Animal Rescue is a small, out-of-pocket operation that rescues all sorts of small animals. Currently in our care are rats, ferrets, degus, and hermit crabs. In the past we have had, and still accept gerbils, hamsters, hedgehogs, freshwater fish, brackish tank fish (partial salt), leopard geckos, chinchillas, and mice.

Please refrain from emailing us about cats and dogs, as we are not the type of rescue, nor do we have the means to care for these types of animals. We have our personal pet cats and dogs, and that is all we are taking on. If you would like information about no-kill rescues in the area that accept these types of animals, feel free to email us for more information. Thank you.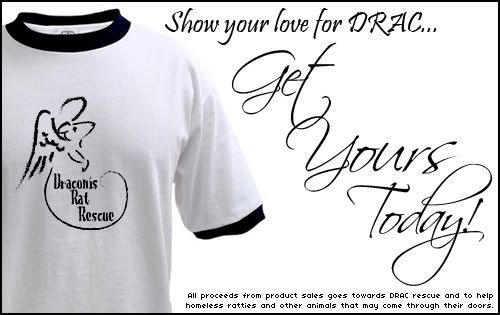 Adopting
For information on adopting, please review our Adoption Contract. You will also be asked to fill out a Pre-adoption Questionaire before being considered for adoption.

If you have any questions regarding these two forms, or any other questions about adopting, please feel free to email dracrats@yahoo.com.



Surrendering
We are currently NOT accepting surrenders at this time. We are simply full to capacity. For information on other no-kill rescues in the area to which you MAY be able to surrender, please email us.


Draconis Rat Rescue
c/o Jessica Bartunek
Council Bluffs, Iowa 51503
dracrats@yahoo.com